B2Gold Namibia Boilermaker Job Vacancies 2023
About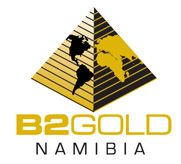 B2Gold is a low-cost international senior gold producer headquartered in Vancouver, Canada. Founded in 2007, today, B2Gold has three operating gold mines and numerous development and exploration projects in various countries including Mali, the Philippines, Namibia, Colombia, Finland and Uzbekistan. This year, B2Gold forecasts gold production to be 970,000 – 1,030,000 ounces.
Strategy
To grow through successful exploration and accretive acquisitions of development-stage precious metals properties. Successfully finance and build mines. Generating "dramatic growth" in gold production and cash flow.
Vision & Values
One of the rewarding aspects of the mining industry is the positive socio-economic impact that developing new mines can have on the local populations in what are often remote and/or impoverished areas of the world.
At B2Gold, we continue to recognize that responsible environmental stewardship and social responsibility are integral components of business in today's world. We have recognized as corporate priorities, environmental management and the support of local communities, and we integrate environmental and social factors in the decision-making process for the Company and its subsidiaries. As we continue to develop and build on our existing exploration assets and pursue additional opportunities around the world, we will remain committed to maintaining the high standards of environmental stewardship and social responsibility that we have established.
Contact Information
Address: 8 Sinclair Street, Windhoek, Namibia
Phone: +264 61 295 8700
CAREERS
START YOUR CAREER WITH US
B2Gold Namibia (Pty) Ltd. is a 90% owned subsidiary of B2Gold Corp. B2Gold Namibia's portfolio includes the Otjikoto Mine as well as extensive base metal concessions in northern Namibia. Otjikoto's construction was completed in 2014, and the first gold poured in December 2014 – with 2015 being its first full year of production.
The Otjikoto Mine is located in the north-central part of the Republic of Namibia. It is situated approximately 300 kilometres ("km") north of Windhoek, the country's capital, within the Otjozondjupa region.
The Otjikoto Mine can be accessed off the main B1 road, a primary paved road, from the towns of Otjiwarongo or Otavi, located approximately 70 km to the southwest and 50 km to the northwest of Otjikoto, respectively.
For general resume submission, please use the applicable e-mail addresses below:
If you believe you can be a value added member of the
B2Gold Namibia family we encourage you to submit your CV for consideration.
For any other inquiries, please contact:
Ninette Krohnert
Director, Human Resources & Administration
Telephone: 604-681-8371
Email: jobs@b2gold.com

RECRUITMENT FRAUD ALERT:
B2Gold is aware of various types of recruitment scams, particularly at our operations in Mali and Namibia. We would therefore like to warn members of the public against falling prey to scams.
Various approaches are used to solicit money and personal information from unsuspecting individuals. Job seekers are typically contacted by someone posing to be an employee or representative of B2Gold, a recruitment agent, or a trainer. These scammers offer employment in exchange for money, or solicit personal information. Such individuals may also use fraudulent B2Gold letterheads to issue 'offers of employment'.
Employment at B2Gold can only be obtained through a standard application and interview process, and the company is in no way associated with any individual or company soliciting money.
B2Gold adheres to ethical recruitment practices, and the company will NEVER:
Request payment, directly or through a third party, to secure employment
'Sell' training, directly or through a third party, that will guarantee a person employment
Send an email from a Gmail, Hotmail, Live, Yahoo or any other internet-based email service provider account
Request personal information such as banking details, unless someone has already commenced employment
We would like to encourage anyone who is contacted in the above manner to report this to the local HR Manager, police or anti-fraud/anti-corruption centre in your country, and to provide as much detail of the scammer/s as possible, such as names and contact details they provided to you.