Welwitschia Estates Job Vacancies 2022
About Us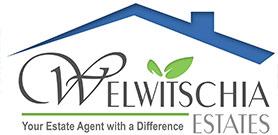 We invite everyone from around the world to come and enjoy the best property experience right here in Swakopmund, Namibia's beautiful and popular holiday resort.
SERVICES
Welwitschia Estates is your premiere Real Estate, and Property Consultant in Swakopmund Namibia. We specialise in the sale, rental and property management of Houses, Townhouses, Flats, Apartments, Commercial Property, Smallholdings, Farms, Erven, Land, in fact all types of property, real estate.
Please visit our Property page for our latest offers. Our service extends far beyond just a quick deal. We walk every step of the way with our clients.
HISTORY
Established in 1998 Welwitschia Estates started off as a one man business ran from a home based office in the suburbs of Swakopmund.
The company since has grown into a well known and successful property business that truly believes in commitment and dedicated service to each and every customer.
CONTACT US
Phone: +264 64 404004
Address: 14 A Sam Nujoma Avenue, Swakopmund, Namibia
Email: info@welwitschia-estates.com.na
Apply for current job vacancies here