The University of Namibia has awarded a First honorary doctorate in literature during a graduation termed "spring graduation"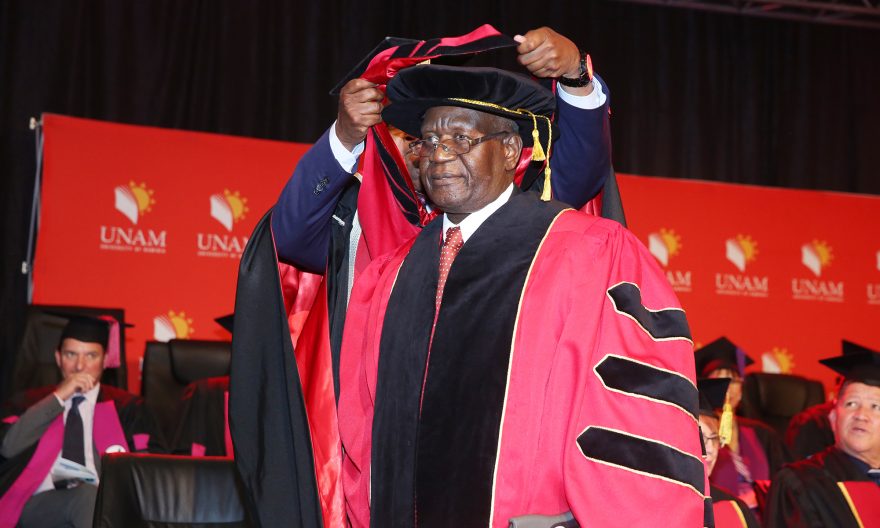 For the first time in the annals of UNAM's history, a second graduation ceremony took place, in which 255 students graduated at what has been dubbed the "spring graduation".
Many qualifications were awarded – 55 postgraduates and 200 undergraduates, but the key qualification was that conferred to an extraordinary honorary doctoral degree student, Dr Alexander Theophelus Jarimbovandu Kaputu.
As Professor Kenneth Matengu, the UNAM Vice Chancellor, quietly and solemnly read Dr Kaputu's citation, outlining his early life and accolades, the audience got emotionally absorbed and enthralled by Jari's exploits during the apartheid era and after independence. He went further and described him as ".. a rare breed of the children born of the Ovaherero of Namibia. Jarimbovandu referring to the genocide that scattered the people."
There was no doubt that Jari touched the hearts of many Namibians in oral literature (orature), oral history and broadcasting at SWABC and later NBC. He extended his programmes to educate the African people and left an indelible mark on their souls.
"Our candidate is special. Although described as a living archive, he does not belong to history. He belongs to the future … as a life encyclopedia, he excels in oral literature (orature) and history …" explained Prof Matengu.
Therefore, Jari graduated with a Doctor of Philosophy Honoris Causa in Literature, officially and befittingly earning the title "Doctor" – becoming Dr Kaputu after being capped by His Excellency, Vice President Dr Nangolo Mbumba, UNAM's Chancellor. As is the tradition with the award of honorary degrees, the recipient has to give an acceptance speech.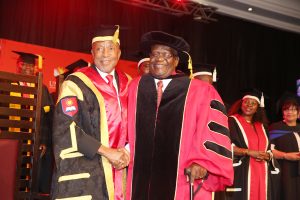 Dr Kaputu paid tribute to his late grandmother for being his source of oral history, herself having been a teenager at the battle of Waterberg (Ohamakari) in 1904. "Whenever I would offer contributions to authors of Namibian history, particularly the history of national resistance to colonial rule, and at a point I would start to feel unappreciated for the fundamental inputs would make to many doctoral theses in Namibian History, Customary Law, Religion, Anthropology, and Linguistics; my grandmother would only encourage me to continue, promising me that I would be handsomely rewarded someday. I can proudly say that today is that day," Dr Kaputu vivaciously read his speech.
A mesmerized audience sat at the edge of their seats, as Dr Kaputu, a seasoned radio personality – with a soothing, melodious and magical voice continued his speech. Finally, he impressed upon the audience by touching on a variety of societal issues that include the use of African languages in education.